Dorothy and Robert Greenwald moved into The Cliffs on June 01, 2015. The move was triggered by Dorothy's Alzheimer's and her personal physician's pressing for the support of Assisted Living.
The Greenwald's met in 1962 in New York City and their first date was dinner at Bob's favorite Greenwich Village Restaurant with soft candlelight. Over a glass of wine, Bob softly declared, "You may think I'm crazy but I think I'm going to marry you." And that is just what happened; they married 5 months later.
Bob and Dorothy both lived and worked in New York City. Dorothy was a partner in Astral Travel, a pioneer in Charter Travel. Her profession facilitated going on 23 cruises over the years, heading South to the Islands and East to Europe. Bob worked at one of the world's largest Public Relations firms, Ruder Finn, which he helped manage. Later, they moved to Montclair, NJ and enjoyed many more years of successful real estate careers.
They have two children and three grandchildren. Their son, Mark, lives in Pennsylvania and their daughter Liza lives in Montclair. Liza did the "leg work" when it came to finding the perfect new home for her parents. She visited The Cliffs and met with Charlotte Crosswell the Assistant Administrator.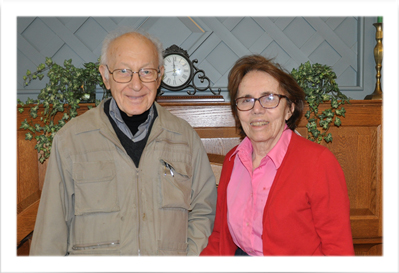 Bob and Dorothy chose a 2 bedroom suite at The Cliffs on the second floor overlooking the interior courtyard. They have been very impressed by the outstanding Cliff's staff and Bob, out of fondness, has given many of the staff "nick-names."
"Prince Marvin" not only does he handle the monthly invoices, but has rescued their computer again and again by making his "Magique."
"King Marko" oversees maintenance miracles. He has transformed their heating issues to accommodate Bob. Bob is a self-declared wimp when it comes to cold. This is in direct contrast to Dorothy, who Bob characterizes as a Polar Bear. As for housekeeping, they remark the laundry and cleaning services are utterly outstanding.
"His Highness Orlando" who oversees the Nursing Staff has been endlessly helpful. He has supplied Dorothy with an attendant who assists her when she gets up in the morning. The attendant helps her shower and dress before going down to breakfast. Also, when necessary, one of the nursing aides comes to their apartment to assist Dorothy with her toilet need, too.
One morning long before dawn, Dorothy fell out of bed onto the floor. Bob called the Nursing Department because he could not lift her back into bed. Voila! Problem solved with a staff member gingerly lifting her back onto the bed. Nurse Orlando has also facilitated "Sitters" for Dorothy when Bob is away at family occasions. The sitters are always kind, helpful, and very supportive.In the Dining Room at The Cliffs, their lives have been enhanced and facilitated by two of the world's most outstanding "Servers" Michael and Nicole.In the Great Room, they enjoyed a glorious band or "old geezers" who wowed all the residents on New Year's Eve with song and merriment. Periodically, there are professional musicians who come The Cliffs and entertain everyone on the piano, guitar, and the accordion.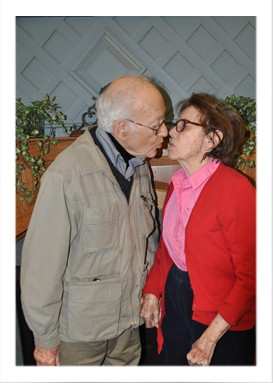 Ms. Charlotte serves her residents as the "Good Fairy." If there is any problem that needs resolution, requests that need to be attended to, or advise of one kind or another, Ms. Charlotte is ALWAYS there to save the day. And indeed, Charlotte has clarified for Bob the "Rules of the Road" when it comes to inviting guests for lunch or dinner. In January of 2016, Bob and Dorothy completed 8 months at the Cliffs at Eagle Rock. In their words: "The time has been rewarding."