Three cheers for our Cliffs Residents who voted in favor of taking on their first charity project since the pandemic began. They chose Wounded Warrior Project and organized ways for residents to raise funds besides making charitable contributions in the charity box.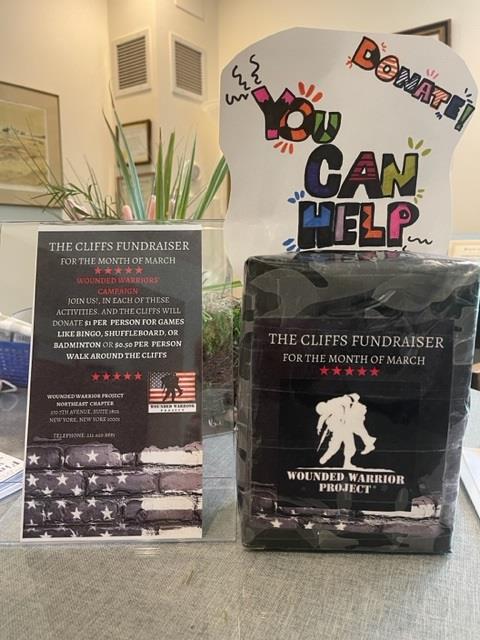 For about 6 weeks, residents donated their winnings from Bings, Badminton, Laps around the Cliffs, and shuffleboard games to help raise $300. The cash prizes were supplemented by donations dropped in the Charity Box left at the front reception desk. To their credit, the resident's final tally was a total of $307.00! A check has been mailed in their Name,
Wounded Warrior Project is a direct service organization. 100% of donation supports wounded warriors. About 72% — nearly $250 million in the fiscal year 2022 – was spent directly on programs and services for wounded warriors, families, and caregivers. The balance paid to support the delivery of this life-changing support.
More than 220,000 warriors, family members, and caregivers were registered with Wounded Warrior Project as of September 30, 2022. The need is great and growing. Every month in 2022, more than 1,780 warriors and family members registered with Wounded Warrior Project to receive our free programs and services.