It isn't hard to smile when Rev. Dawn gathers residents together to be reminded of a loving God who cares for them; and how they too can uplift each other by caring for those in their midst.
Despite being the newest addition to The Cliffs Family, she has found a welcomed community ready to enjoy her energy and wisdom, as part of our Spiritual Enrichment Support Team.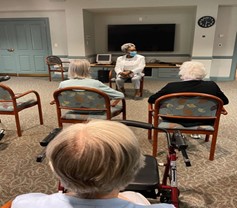 Rev. Dawn has a Masters of Divinity and a Doctorate in Metro Urban Ministry. She worked as a full-time Social Justice Minister and Clergy for her congregation in Perth Amboy, N J for 5 years. After that, she was called into chaplaincy. Presently, Rev. Dawn divides her time as the Primary Chaplain of Heritage Mano, which offers her the opportunity to minister to hospice, dementia and Alzheimer's, as well as our Cliffs residents.
As Rev. Dawn establishes relationships with our staff and residents, her goal is to "present ministry through bringing the presence of God in a way that is familiar and comfortable to the community".
Rev. Dawn will be at The Cliffs weekly on Thursdays to be a support to both residents and staff members.